Ever since leaving for my round the world trip in 2013, I've always had that crazy dream of touching all continents. I didn't think it was at all possible then since I couldn't picture an affordable way to go to the Antarctic. But since I went on Infinity and touched land in South America, my only continent missing was Africa.
Finally reaching my last continent
I was looking for ways to check that one in, but couldn't really find anything appealing enough, and I was busy travelling around Europe. When my working holiday visa was about to expire, I decided to have a look at workaway since I had enjoyed my experience in Jordan so much.
I quickly found a workaway gig that stood out. Helping out in a skydiving club on the stunning Kenyan coast. It was too good of an opportunity to pass on, so I sent a message. They needed help for the boogie, a skydiving event which gathers skydivers from all over the world for some great jumping during the day and great parties at night. Once again, how could I pass such an opportunity, especially since there would be the possibility of getting my first jump in as well! There was no way I was going to pass this, so I booked myself a ticket to Ukunda, with quick stops in Istanbul and Nairobi.
It felt like a long journey, especially the second flight since my TV screen wasn't working, but eventually, I made it to the sunny and extremely hot and humid Diani Beach.
My first day was spent enjoying the beach and the surroundings of the drop zone. The white sand beach with sparkling turquoise water, tall palm trees and lush vegetation, and the adorable baboons, sykes monkeys and interesting blue ball monkeys made it for a gorgeous setting.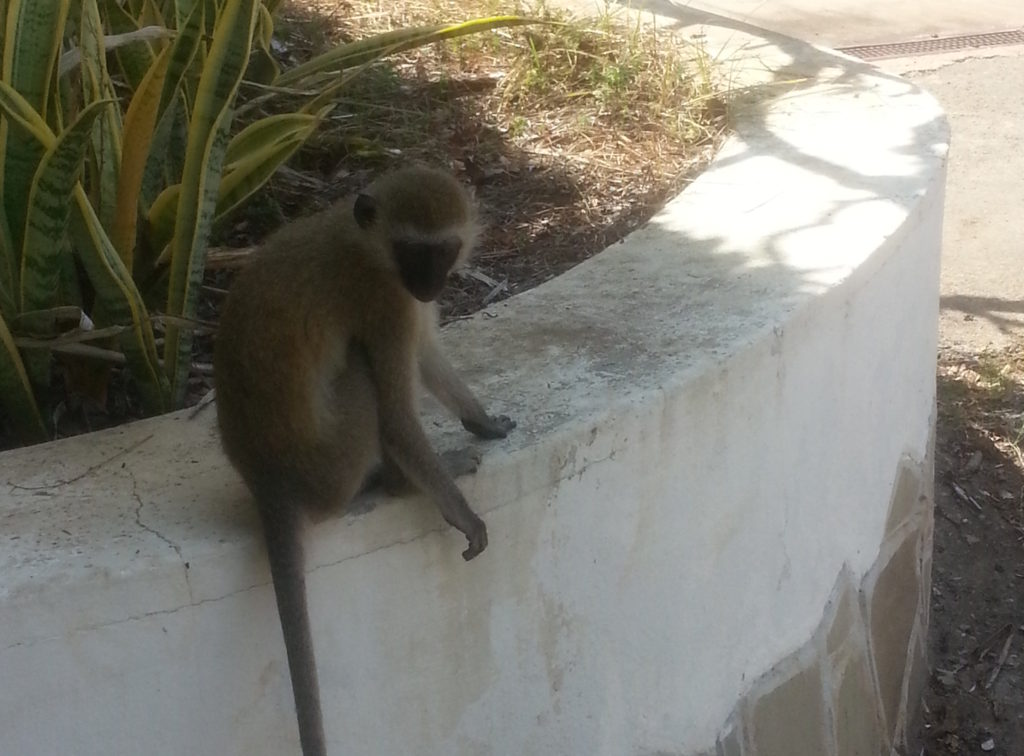 The first couple of weeks were really laid back. There weren't that many people coming in, except for a group of UK guys doing their AFF (Accelerated Free Fall) course and a few tandem jumps. The days were going by quite slowly with my job being to edit some of the tandem videos. I did enjoy that job quite a bit because it was very funny to see people's reactions to jumping off a plane. It can be a bit of a sensory overload especially for the first few seconds of the free fall and their faces captured that hilariously funny moment.
Skydiving in Kenya
After a few days, it was my chance: there was space on the plane and Angelo was willing to jump with me. So he geared me up and we went in the car. Between the moment where we mentioned I could go on that day and the moment when I was sitting in the car there was only about 15 minutes. Just enough to start understanding what was going to happen and start to get excited. The ride to the airport is really short since the Ukunda airstrip is located only a couple of kilometres from the drop zone.
When you get to the airport you have to go through security, which obviously wearing a tandem harness would set off the metal detectors. After a very quick pat down I was waved through. Walking in front of people waiting for their flight and seeing the look on their faces was quite funny. Some of them seemed quite interested and others ones would have never traded the safety of their slightly bigger plane to mine.
The flight was interesting. Everyone piles up sitting backwards, and off we go. It's a fairly small plane and it can be quite shaky, but to me, it is a lot more reassuring when it moves a bit and I can feel I am actually on a plane.
The view from up there is amazing, and you get to see Mombasa and how spread out the city is. The whole time going up I was oddly calm. I was expecting for the adrenaline to kick in, but instead of being scared I was simply excited.
What I was going to do hit me when I saw all the guys sitting in front of me jumping all at the same time to make some formation. It's at that moment I realised I was about to jump off a perfectly good airplane to go land on a fairly small strip of white sand beach. I got nervous and excited. It was about time since a few seconds later my legs were dangling off the side of the plane and next thing I knew I was quickly falling towards the beach.
The first few seconds took my breath away. The sensations were a lot to process at once. But very quickly it all made sense to me. I could finally understand why the people I had just met were all addicted to jumping. The amazing scenery and the feelings of the free fall just brought so much calmness in me. We were not even done the 60 seconds of free falling and I knew that was it.
I was hooked.
I would now have to find ways to jump over and over again.
Once the canopy opens, everything becomes so calm, it feels surreal. There's no more sound, and you are flying above a gorgeous white sand beach. That part of the descent last for about 8 minutes. Eight minutes I never wanted to end.
But sadly for me, it was already time to land on the beach. That was the end of my first but surely not last skydiving jump.
Skydive boogie
The ten days or so of the boogie went by so quickly, the work days were quite long and the nights quite short. I started helping out with the accounting, not something I'm truly a big fan of, but something I can do nonetheless. The idea was to make sure that every single participant could have access to their balance on their account at any time during the day. And since they were buying jump tickets, packing tickets, rig hire as well as food and drinks, it was a lot of entry for about 100 skydivers.
I met some of the craziest yet amazing people during that boogie. From my favourite group, a bunch of Egyptian dudes who all came together because of one of their common friends to a group of UK military guys and many people in between, I had an amazing time.
Some of the planned activities were amazing. The guys at Skydive Diani had planned a lot of different setting and locations such as a sunset landing on a river mouth. On a different evening, people were landing on a private island. They even organised a sunrise jump and a sunset jump with all three planes dropping the skydivers at a very short interval. Between these jump activities and the many barbeques and dinner, it was work hard, play even harder.
I barely slept for 10 days but I had an amazing time and met insanely passionate people. Definitely my favourite kind!
As usual, my "plans" for what's next are very blurry, but I do aim to see a bit more of Kenya. While the coast is lovely, Kenya is a large country with tonnes to see and do so there's still much more to explore and discover!
Since I got hooked on skydiving, all I can think and talk about now is how to find a way to work in a drop zone, earn some money and get my skydiving license. If any of you guys know of a dropzone hiring, please, I'm begging you, let me know so I can scratch the itch once again!