After my yearly visit, I left Canada once again in November. At that point, I was moving to New Zealand on a working holiday visa. If I'm being totally honest I was planning to focus more on the travelling part than the working.
The flights from Canada to Auckland are very long (it is on the other side of the world after all!) and rather expensive, especially for people like me who don't plan much in advance. When I was looking at flights, the only affordable options I could find included a very long layover on the West Coast of the USA. I wasn't too keen on spending 10+ hours in an airport, so I decided to look for other options to break the long travel time.
A good friend from Dubai was back in Europe so eventually, I had the idea that I could go and visit her. It didn't work out to catch up with her in the end, but it did help me find a flight that was much better suited to my needs. I would fly from Quebec City to Lisbon, spend a week there (getting a glimpse of a new country), and then fly to Auckland for the next chapter of my life.
Pajama mission in Lisbon
I made it to Lisbon on a very uneventful flight, however, my bag did not follow me. In all my years of travel, it was the first time that my trusted green backpack didn't show up on the carrousel. After figuring out that my backpack was not there or anywhere else in the airport, I went to the lost luggage desk and filled a lost bag complaint. At that point, I knew I would have to wait at least a couple of days to get my bag back since that airline only flies to Lisbon every other day.
I always pack an extra t-shirt, socks, and underwear in my carry-on, and for once I was very proud of myself! Not having my big backpack with me from the airport also meant that the trip on the Metro was a lot easier.
Once I arrived in the city and checked-in at my hostel, I immediately went on a mission. Since I was staying in a hostel I would need to find a pyjama or at least something to sleep in. My nightwear mission was successful as I quickly found a store that had rather bright coloured but amazingly soft leggings.
Since my mission was now accomplished, I made my way downtown towards the waterfront. It was quite busy, and as I was tired from my flights I wasn't really in the mood to be surrounded by careless tourists.
I found a quieter place to sit, a few meters away from the crowd. It was seemingly the spot for solo travellers. We were all lined up on the promenade and nobody said anything. They were most likely travelling on their own too and looked also a bit lonely but instead of talking to each other and being social, we all just stared silently at each other. Silly humans.
Exploring Lisbon
My first full day in Lisbon was not easy. I was tired, stressed and I was still waiting on my backpack containing all my life. In the morning I walked to Castelo de Sao Jorge, stopping in a couple of viewpoints on my way.
I came back down exploring some of the small windy streets of Alfama. This neighbourhood used to be the poor area of the city, which like in most cities nowadays is turning into a fashionable district. I was getting hungry so I walked up towards Baixa where I found a little restaurant selling crepes filled with hummus and veggies. I explored some more, stopping in all the Miradouro I could see.
After walking a bit aimlessly for a few hours, I did feel better. The fact that I ended up in a green park of Principe Real, eating tasty raw vegan cake might have also had had something do to with my mood being lifted!
I was getting tired of walking and by then I was also quite far from my hostel so I decided to head as straight as possible which meant a lot of ups and downs but fewer steps. I had planned on crossing the large Av. Do Libertade but there was a parade for the Restoration of Independence Day (marking the reinstatement of sovereignty after the period of Spanish rule) so I couldn't cross the street anywhere. I ended up having to go all the way down the rather long street then up and down more streets before finally making it back to Rua Palma where I knew my way back to the hostel.
Belem
After going to bed super early and finally catching up with my jet lag, I woke up super motivated. I had heard only good things about Belem and decided to go and have a look. Some buses go there but since I had a lot of energy, and Google told me it was about 9.5km from the hostel, I decided to walk.
I chose to go along the water as I figured it would be flatter than the rest of the city and it was indeed. The Ponte 25 de Abril suspension bridge and the Cristo Rei statue (inspired by the Christ statue in Rio de Janeiro) were nice to see. The bridge is very similar in style and colour to the Golden Gate Bridge in San Francisco
My mom had been to Lisbon before and she mentioned a few things to have a look at such as the monument Padrao dos Descobrimentos, the lighthouse, the plane (Sacodura Cabral and Gago Coutinho Monument). After lunch, I had a look at the monument with the eternal flame (Monumento aos Combatentes do Ultramar). It reminded me of the one in Bishkek, Kyrgyzstan. After contemplating the flame for a while, I headed back towards the city, crossing over the motorway and walking along the main tourist street.
I had an outside look at the massive Centro Cultural de Belem, the Museu de Marinha and the Monastero dos Jeronimos. The church next to the monastery was very pretty but on a Sunday afternoon, it was very much packed with people going to mass and a lot of tourists. Despite the crowds, I stayed in for a while as there was a choral singing and it sounded beautiful. I would have stayed there longer if it wasn't for all the disrespectful tourists chatting loudly, being in the way, and generally unaware their behaviour was disrupting the people attempting to pray.
When I walked outside it was even more crowded. I was quickly getting annoyed, so when I saw a sign for the Jardim Botanico Tropical, I was more than willing to pay the 2 euro entry fee. It was beautiful with many different trees and plenty of ducks everywhere. I was finally getting some of the peace and quiet I had been searching for. I took my time, exploring the different sections of the park, breathing and relaxing.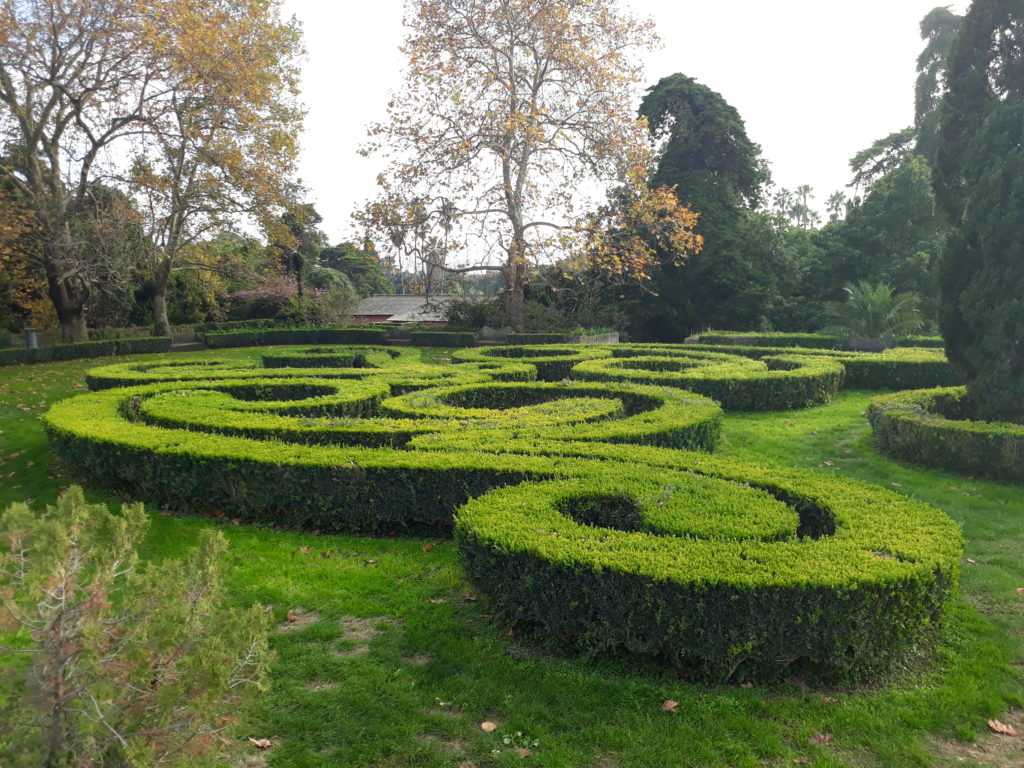 Afterwards, I was thinking of catching a bus back to Lisbon, but I wanted to walk some more first. I walked next to the Belem Palace, just in time for the change of the guards. I kept going, thinking I would get the bus at the next stop, then at the next one, or the one after that. And the next thing I knew I was back by the water, with the sun setting.
It was beautiful and once again rather crowded, more and more as I came in closer to the city. Everybody seemingly wanted to take the same selfie. All lined up next to each other, with the sunset and the bridge in the background, either with their selfie sticks or asking someone else to take a "candid" shot of them. We live in a rather fascinating time where everything is about likes and being picture-perfect. I also fall for this at times, however, I try to notice when I am doing it. And mostly I try to be aware of the actual stunning sunset happening while everybody is busy taking photos.
Tasty vegan food and cemetery
After my long walk the day before, the next day I was in a mood for a slow-paced day. And for some more greenery and peace. The last thing I wanted was to be surrounded by more obnoxious tourists!
It was a gorgeous sunny day with very little wind which made it the perfect spring weather to walk and sit outside. I decided to start my day with a visit to the Cemetario do Alto de Sao Joao. I knew it would be quiet, and the chances of finding hoards of tourists there quite slim. I always love visiting cemeteries when I travel as there's nothing quite like them. A quiet place where you are reminded of life by being closer to death. I always find it very soothing. A calming reminder to enjoy life as it is now, as you never know how close the end is.
The cemetery, overlooking the city, is a true necropolis with many streets lined with large mausoleums and sepulchres and my visit left a lasting impression on me, especially the sepulchres and their visible caskets. That night, I told one of the guys in my dorm how fascinating I thought the cemetery was and with the look he gave me, I quickly realized that most people preferred more "normal" activities such as shopping when exploring a new city!
I had met an American vegan the day before also in my dorm and he had recommended I try a small restaurant called Vegan Eats. It was a very sweet place, super chilled, nothing fancy. The lady who runs the restaurant looks like a grandma serving her delicious Portuguese comfort food. All vegan, homemade and seriously tasty! It was so good indeed, that in the next few days I would return almost once a day, unfortunately sometimes arriving after they had run out of the main meals, but thankfully while they still had muffins and cakes available.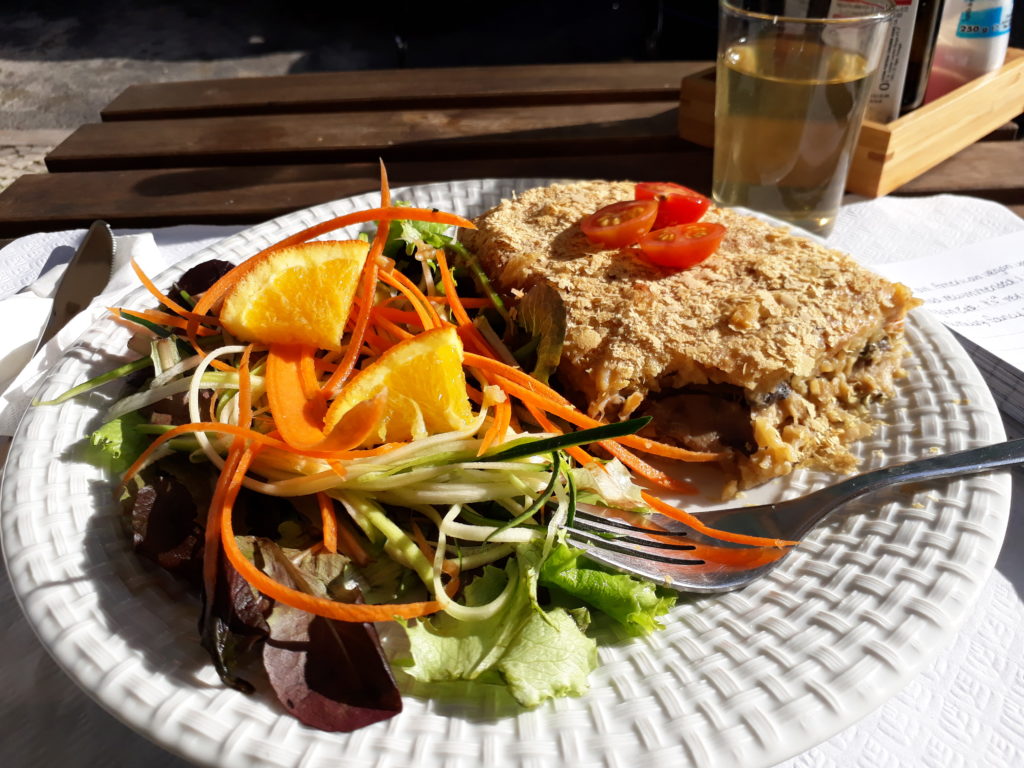 After my lunch at Vegan Eats, I walked to the Jardim Botanico de Lisboa as I was still craving quiet and greenery. It was nice but not as pretty as the one I had visited the day before in Belem. This garden had a lot more plant and trees species but the one in Belem felt like I could explore and get lost (or pretend to).
After three full days in Lisbon, I felt like I had seen most of it or at least the part that interested me. It's probably a good city for nightlife, but since I'm not into this anymore, I was more than ready to go see something else and trade the city rhythm for more extensive nature.
Stunning Sintra
The next day was yet another super busy walking. In the morning, I took the metro to the Oriente station to get on a local train. The train station was one of the most confusing ones I've ever visited. I'm not sure if it was my morning brain that couldn't understand the square building or find any signs indicating where to go and buy my ticket, but it took me a very long time to find the right place to buy the ticket. I eventually managed, and after asking the lovely police officers guarding the area, I made it to the right corner of the building and finally bought my ticket. The train was scheduled to depart 2 minutes later and as it was coming in, I realized I had forgotten to validate my ticket. I rushed downstairs, validated it and then got on the train just before the doors closed. There are regular trains every few minutes leaving for Sintra, but for some unknown reasons, I had convinced myself I needed to rush and get on that one.
I arrived at the station in Sintra at about 10:30 am and picked up a map at the tourist information center. When I asked the girl working there how I could walk up to the castle, she looked at me like I was insane and told me there was a bus. She clearly didn't understand the appeal of walking to the castle!
The map was not so helpful since there were no street names on it. But I started going uphill anyway. I was once again very grateful for my OSM app on the way up as some of the streets and shortcuts weren't all that obvious.
It was definitely worth all my trouble though as the Moorish castle was perfect. A real medieval time castle with amazing views and multiple walls to walk on. It made me very happy to go up ever possible wall and tower. It was really windy and sunny, and it sure put me in a great mood.
After going all around the castle, I made my way to the Pena Palace and garden, entering at the lakes side entry at around twelve. I had read on a sign that the busiest times and longest cues were between 1 pm and 2 pm so since it was still early I decided to start with the outside of the palace. It's a very popular attraction and it must be mayhem in the summer months. It is worth it though as the view was simply stunning.
I grabbed a coffee from the castle cafeteria and listened to a local guide and his German guest discuss the history of the castle and the surroundings. A slightly stronger gust of wind came in, and spilled my coffee all over my shoes and bag, after only 2 sips, which was my cue that it might be time to move on to somewhere else
After exploring the terrace I was starting to have enough of the crowds, so I headed towards the Cruz Alta, the high cross. I chatted at the top with George from Georgia (for once I could remember someone's name!) and had my lunch while taking in the views. After a while, I made my way down in the gardens, stopping at Gruta do Monge (the Monk's grotto) and Tonoda Rainha (the queen's throne), which had an amazing unobstructed view of the Pena Palace.
I explored a bit more but at that point, I was getting tired and not paying much attention to my surroundings anymore. I checked in at the hostel, thinking I would shower and then go for an early dinner, but I couldn't get any hot water so after 10 minutes of shivering naked waiting on the water to warm up I gave up. I had planned to try a new vegan restaurant, but I had not realized it was only open on weekends, and of course, we were a weekday. I set off to find a supermarket instead but I walked straight past the stop on my GPS without seeing anything. I came back around and still couldn't see it. So I settled on a very small shop to buy a few snacks and then stopped in Ekvilibro for a late lunch early dinner before heading back to rest at the hostel as I knew I had another huge day of walking the next day.
After that crazy amount of walking in a few days, my legs were hurting with every move, especially my calves and my quads. I was starting to look forward to just sit on the plane for hours! At least my sore muscles would then get some much-needed rest!
Convent of the Capuchos
I knew that walking to the convent would take me a long time but it was quite hard to figure out exactly how long since people kept telling me it was either 5 km or 10km. One way. They had no idea how long it was by foot but didn't want to admit they didn't know, so instead, they made numbers up. It happens regularly when travelling, and it's always rather frustrating. I'd much rather having someone telling me they don't know, then giving me wrong information!
There's no walking path per se from Sintra to the Convent; it follows the main road for most of the way before turning into a forest. The roads here are all very narrow and don't have sidewalks, but since it's not a super busy road I felt somewhat safe for most of it.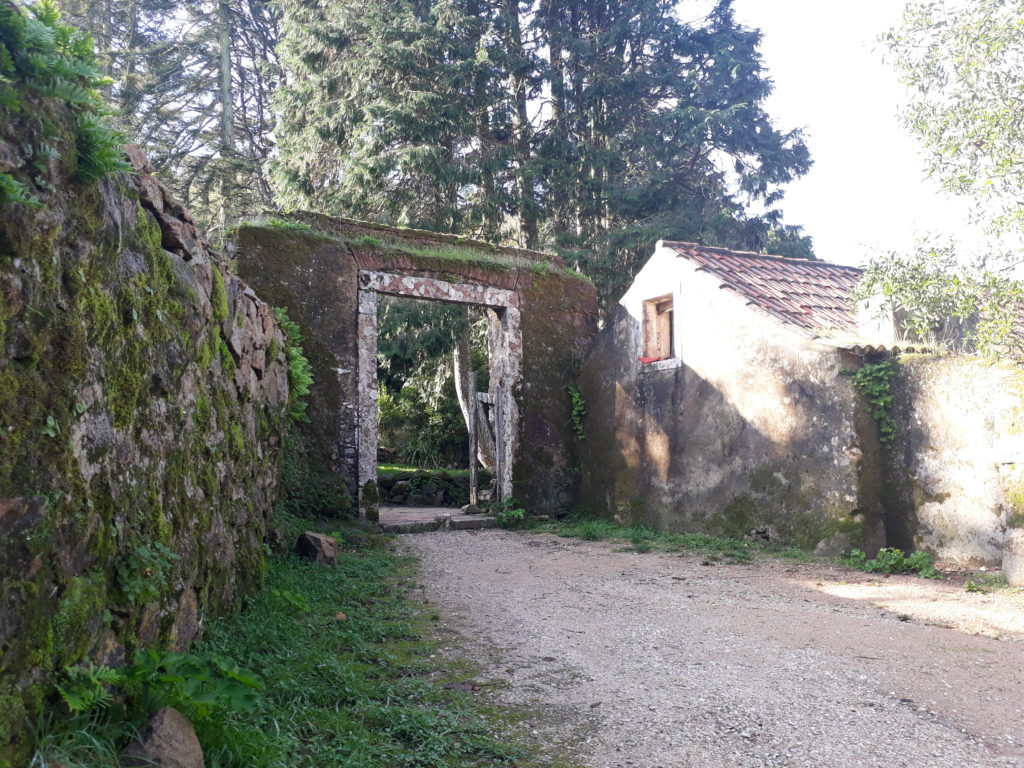 The walk to the Convent was very enjoyable. It wouldn't be as pleasant under the rain but I was lucky enough to have yet another gorgeous sunny and warm day. My GPS took me through the woods and it was quiet and peaceful. I didn't see anybody else which was even better. I left the hostel at 9:30 (after having turn back because I had left my phone charger plugged in) and it was a great thing since there weren't that many cars on the road yet. On my way back from the Convent, there was a lot more traffic but as I walked facing them it was mostly okay.
Visiting the convent was fascinating. It was built in 1560 and was inhabited until 1834. It's also known as the cork convent because they used the cork from the oaks around to insulate the openings, giving the doors and windows a pretty cool look.
It would, however, have been a very tough life for the monks. The rooms were extremely small. I would barely fit if I was to lay down. The doors are minuscule, forcing the occupant to bow in humility, or anyone else to badly bang their head. They are so narrow that I touched the frame with my shoulders on either side coming in, which made me think many people probably couldn't fit through.
The peace of the area was unfortunately disturbed by the buzzing sound of a drone taking aerial shots for what felt like a very long time and some constructions. It made it a lot more challenging to picture how reclusive of a life these monks would have had with all the noise of modernity surrounding me.
The convent has many different rooms, including a penitential cell and a dark one for meditation. It was very dark indeed and when I used the light on my phone to see the inside of the meditation cell, I disturbed three massive spiders. It startled me, probably as much as it scared them. I stepped back, moved the light around to see what else was in there, and in the opposite corner was a lovely tiny bat sleeping.
I had a very lovely time visiting but also walking through the forest, dancing like nobody was watching (because nobody else was there) on my way back while listening to some music. I made it back to Sintra at 2 pm after walking 12km. I was pretty impressed with myself to have managed yet another sizable walking day! I got on the train back to Lisbon, unfortunately making it too late for another tasty lunch at Vegan Eats, but still managing to get myself a delicious apple pie, so overall a successful end to my day!
Leaving Portugal and moving to New Zealand
My last day in Lisbon was spent revisiting the Alfama neighbourhood and getting lost in its many little cobbled streets. In the late afternoon, I caught the metro to the airport, happy to have left a bit before the rush hour as I now had all my stuff with me, including my big backpack, not easy to manoeuvre around when everyone's trying to get home as quickly as possible.
While getting on to the plane, the safety officer talked to me in Portuguese and then when I replied in English she apologized profusely and told me it was because I looked Portuguese to her which I thought was rather funny and flattering. Another girl I had met in the hostel also thought I was from Portugal and nobody asked me for anything (except some lost tourists asking for directions to their accommodation) or tried to sell me anything so maybe I did look somewhat Portuguese! I'll take that as a compliment as I thought the Portuguese women looked rather fine!
Lisbon was a lot more interesting than I originally thought. I had preconceived ideas since everybody seemed to agree that Portugal was this amazingly beautiful place. In the past, I have been rather wary of places that everybody raves about as they tend not to live up to the expectations, but I have to admit I was pleasantly surprised. Lisbon and Sintra lived up to the hype, and it made me want to see more of the country.