I was in Edinburgh when I decided to leave Scotland to head South to England. I knew I would have to go see some of my friends before leaving. So I went back to Perth, my first home in Scotland, and Dundee.
A few days later, while sitting on the Megabus from Dundee to Glasgow, it felt like I was closing a loop. Unknowingly, I had picked the longer bus run, the one that stops in Perth and in Stirling on its way. Seeing Perth and Stirling castle with blooming flowers made me think maybe it was time for a new beginning. Although I was excited to discover new areas before heading South, I was a bit sad to be closing this chapter of my life.
Glasgow
My first night in Glasgow I met up with a friend I had worked with in Calais while volunteering for Help Refugees. We had planned a quiet night, meeting for a drink after she was done working, but, of course, it didn't go as planned! We ended up touring a few vegan places in Glasgow, including the Flying Duck and Stereo. I had a great time and it felt so good to be able to talk to someone about what we had experienced in Calais and how it had changed us. Something we both felt most people in our lives could not quite grasp.
Fort William
The next morning, slightly hungover, I took the train to Fort William. I had trouble staying awake so I alternated between sleeping and waking up to great scenery.
I arrived at the hostel late in the afternoon. While waiting for the receptionist to do the check-in, I met Farah and Benny, a Canadian-German couple. We got along so well, everybody else thought we had been travelling together for a while. They had a rough idea of what they wanted to do for their Scottish holiday but were flexible. We ended up spending four days together day and night, hiking and sharing the same dorm.
Being back in a backpackers was quite funny. It did feel like I was back in Pitlochry (the hostel is part of the same group) and when I woke up the next morning, I was very confused for a few minutes as I had that weird feeling of deja-vu.
The Fort William Backpackers is bright and colourful, with lovely staff, just like all of the backpackers run by the same owner. The best part of the Fort William hostel is its common room. With a fireplace and great views of the mountains, it's the obvious place for travellers to gather and chat. When I travel, I always pick smaller hostel as I find they tend to still have that "hostel" vibe I like so much whereas, in larger  cities, I find it to be more impersonal.
Cow Hill
On my first day in Fort William, the weather was typically Scottish. The clouds and the light drizzle made me look for a shorter walk. Following the recommendations from the hostel's staff, we decided to have a look at Cow Hill. Farah, Benny and I enjoyed lovely chats about a great range of subjects, distracting us from the rain. When we arrived at the top of the hill, we met a group of highland cows. It's always a bit unsettling when they look straight at you with their big horns, so I admit I went off the path to give them a bit more room and to feel more comfortable. Just in case they decided I was not friendly enough.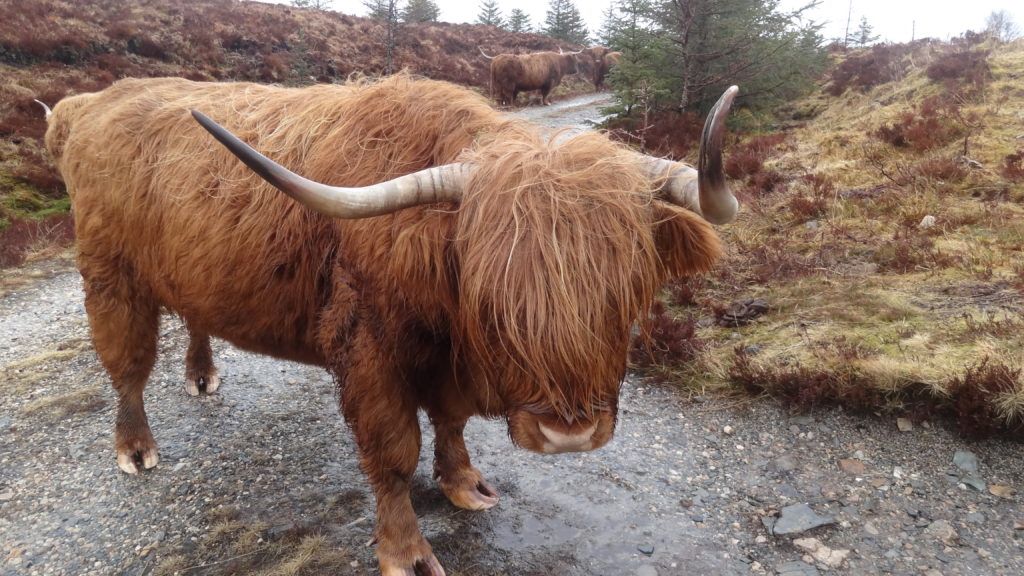 The weather wasn't that great but nobody cared anymore. Another thing I really appreciated in hiking with that couple was that we were all in the same mood, going off the path when we wanted to see more of something and taking our time to admire the nature. After our walk, we had dinner, and later on, everybody from the hostel decided to go to the Maryburgh Inn. It is a very small pub with a well inside. There is a plexiglass cover on top of it with a small slot and a thin beam crossing the well. The goal is for people to drop coins in the slit and have them land on the beam. If someone manages to do it, they get a free beer. It was hilarious to watch people convinced they could do it. They ended up spending a lot more money that they would have if they would have gone to the bar and buy a pint on their own, but it was a lot more entertaining this way.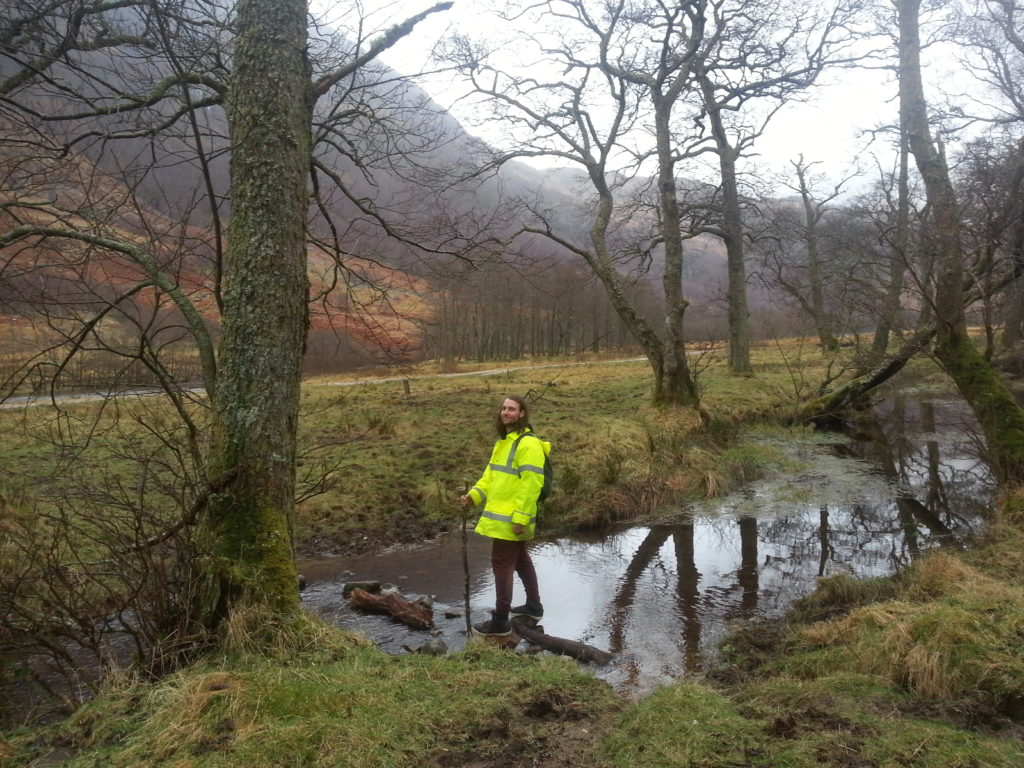 More walking in Fort William
The next day we went for another short walk. We went up the beginning of the trail to Ben Nevis and then down in the valley and along the river. The scenery was gorgeous and as it had been raining for a few days, it was quite wet. We met numbers of highland cows and just enjoyed our day in the wilderness before heading back to the hostel for some reading and relaxing in the warm and cozy common room. It was a lovely day with great conversations, superb scenery, and nice people.
Ben Nevis
On my third day in Fort William, Farah, Benny and I decided to go up Ben Nevis. The weather was nicer so we started going up. We used yet another "shortcut" which turned out to be longer and more challenging, making sure we were keeping in touch with our recent traditions. Every day, we would find shortcuts, only to realize they were not shortcuts at all! We had been told the day before that people going up Ben Nevis still needed crampons and because we didn't have any we decided we would still go, make it as far as we could safely and go from there.
When we reached the snow, we kept going for a while, but eventually, the thick melting snow was getting too slippery and challenging to walk on. And with a large cliff on one side, we didn't feel like taking chances. We took a short break to enjoy the views and started our descent. A few minutes after we started descending, the clouds came in. They came in right behind us, and I was quite happy we had decided to turn around when we did as we could no longer see the path. As always, the weather was very unpredictable in the mountains.
At night, we decided to return to the pub. It was Karaoke night, which I am definitely not a big fan of. But with lovely people, it was still a great evening overall.
I've met really cool people in my short stay and I really enjoy the kind of people that end up in Fort William. It is called the outdoor capital of Scotland with good reasons. There's so much to do and people that come here are very fit, active and handsome…
Returning to the city
People sometimes ask me how I meet so many cool people. And I always answer that it's easy… I go talk to them! A good example of this is when I was on the train back from Fort William. Someone was sitting in my seat and because the train was far from full, I chose to sit at one of the seats with a table. I could have easily decided to sit on my own but I wanted to use the table so I sat with a seemingly nice guy. Sure enough, he was actually quite lovely. He was from Hungary and had just walked the West Highland Way from Milngavie to Fort William. We chatted for part of the way and it was nice.
Now this happened because I decided to sit where there was already someone. Should I have decided to act more like "normal" people, I would probably have picked another seat. And the reason why we chatted is because I struck up a conversation. It's not always easy. It actually takes some effort to go and talk to someone, yet it's always worth it. By that, I'm not saying that I always become good friends with people I meet or that I even want to get past the first few exchanges. Half the time I'm okay with small talk or short conversations. It does however always make me feel better to interact with people, and sometimes you end up making great new friends.
In Glasgow, after many of my friends had recommended it, I decided to spend part of the day at the Kelvingrove Art Gallery and Museum. It was very interesting to see all the different exhibitions. I was getting ready to leave when I noticed that an organ recital was starting 15 minutes later. It's an interesting sound and quite the technique to use hands and feet. I was glad I didn't rush through the museum and I got to see the recital.
Afterwards, I was hungry and undecided on what I should do next. The 78, another vegetarian/vegan restaurant in Glasgow is located just a few minutes walk from the museum, so it made my choice very easy! This was one of my favourite things about Glasgow, there are so many options to eat either very crappy food or very healthy. A good balance, and something for everyone! I spent the remaining of my day in Glasgow wandering about in the city, people watching and generally just having a good time.
It was a great conclusion to my Scottish adventures. I didn't know then that my English adventures would come to an end much quicker than anticipated, and that it would force me to change my plans once again and hop on a plane to Moldova and have a really cool cycling trip.
While I was happy to move on to somewhere new, Scotland was still one of the places I liked the most during my travels. It's small enough to be able to easily get around, yet the scenery is very varied, with everything from mountains to beaches. And with lovely outdoor activities, lovely people, and great whiskies, it's a good place to call home. I will go back eventually, but until then, new adventures await me!