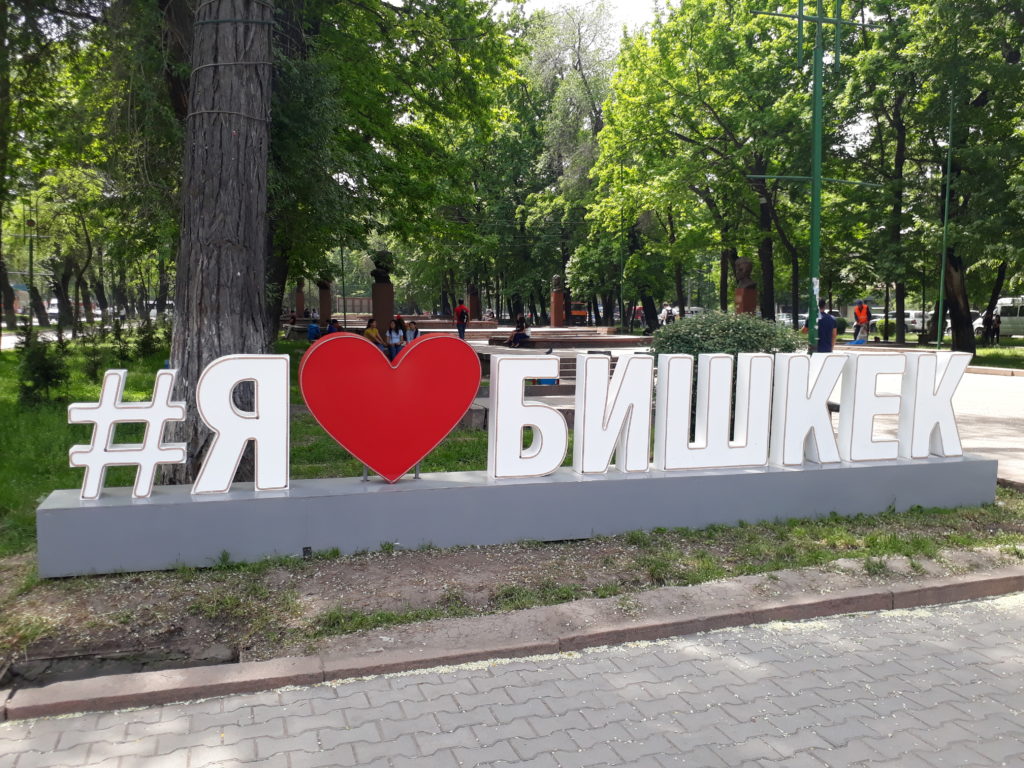 Back in May, I needed a break from living in Dubai. I had done the odd expedition to some of the other emirates, but I needed some time away from the city, and a few days to myself. When I received my work schedule for the month, I saw that I had 4 days off in a row, so that made my decision super easy. I was going somewhere on holiday!
Deciding to go to Kyrgyzstan for a few days holiday was definitely not the usual destination people go for, but it was perfect for me. I didn't know what to expect, but I knew I needed something different. I've never been one to like beach holidays so I looked into alternate destinations. I had never been to any of the 'stan, and since it was only a short flight away, I thought it was interesting. FlyDubai also happens to have a lot of cheap flights to that area, an obvious plus.
I didn't know where to pick between Bishkek, Almaty or even Georgia or Albania. Since it was May, I knew that most mountainous regions would still be very much in winter like weather, so it quickly became a choice between Bishkek and Almaty. In the end, what made my decision was the flight times since they were pretty much the same price. Bishkek was a bit shorter flight, and it suited my schedule better.
As I wrote in my journal before booking: I'm not sure I'm in good enough shape to actually go on hikes but I'm sure I'll love being in the nature. Seeing trees and grass. It will most likely be a shock after 6 months in Dubai.
Finally flying out of Dubai!
I was quite worried once again that I wouldn't remember how to travel, just as it had happened last time I decided to go explore somewhere new. And once again, as soon as I left for the airport, I knew I would be fine, my travel reflexes all coming back slowly.
When I was ready to disembark, I looked behind me and saw Alexandra, an Austrian girl I had met at the Skydive Dubai Desert Campus. She was here to go paragliding with 3 other guys. Their guide was picking them up at the airport and she asked if they could give me a ride. I was going to get the minibus to the city, but since it was very early and I hadn't been traveling on my own for such a long time, I was quite happy to have the opportunity to be dropped off and not have to worry too much about finding my way to the hostel.
We met up with their German driver, and he said he was happy to take me but on certain conditions. First of all, he could not guarantee there would be any room to squeeze me in since they had all their paragliding gear. Secondly, there wouldn't be a seat belt for me, so Alexandra and I would have to share the front seat. Of course, that's not legal in Kyrgyzstan, as in most countries, however the possible fine if we got arrested by the police would be less than a taxi ride. We agreed that should we get stopped by the police, I would pay the fine. We packed everything and everybody up, and set off towards the city.
We saw a few police cars on the way, but every time Alexandra slid down on the seat, and I hid her behind the bag that was on my knees. Nobody saw us or cared. We had to do this a few times getting in the city, but thankfully never go stopped!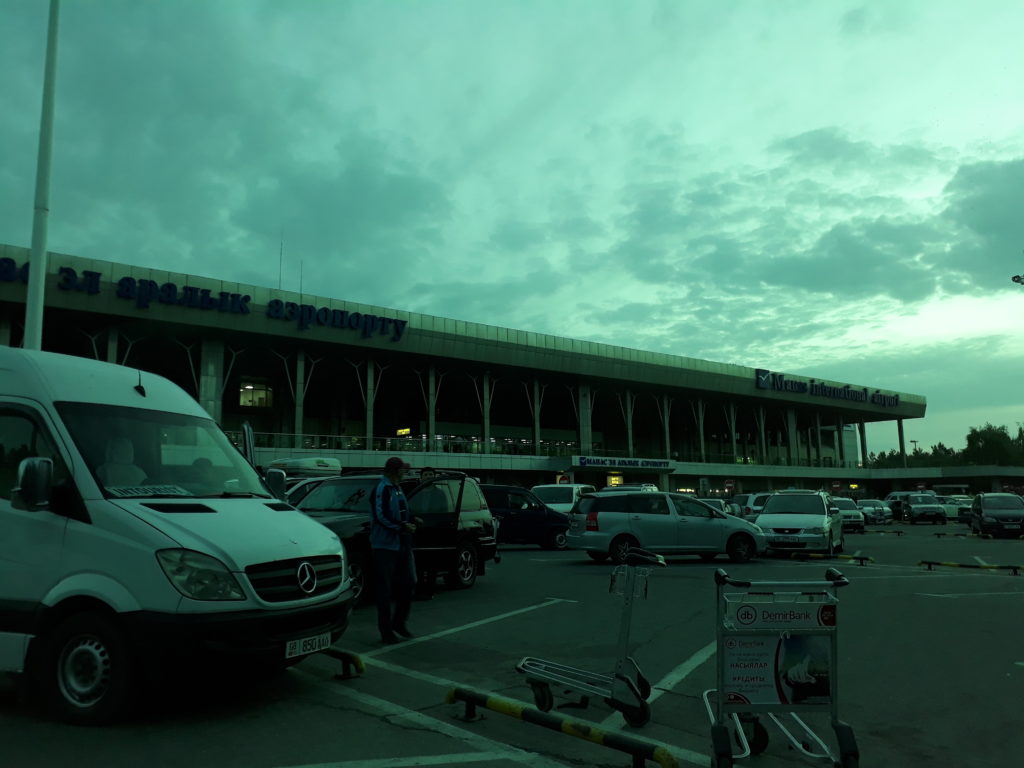 The roads reminded me of Transnistria, the separatist region of Moldova, all lined with tress with the bottom painted white. It was very similar except for the fact that they have massive mountains in the background. I was already getting excited to see nature and something else than endless deserts!
I arrived at the Apple Hostel at around 6:30 am and luckily, I could check in right away in my female dorm.
First impressions
I was already in love with the country and I had not even been there for 2 hours! It reminded me of Moldova and I felt right at home. I'm not sure what it is with those post-soviet countries, but I always feel very good there. It's a rather simple living, everything is written in Cyrillic, yet it feels more natural to me then going back to Canada.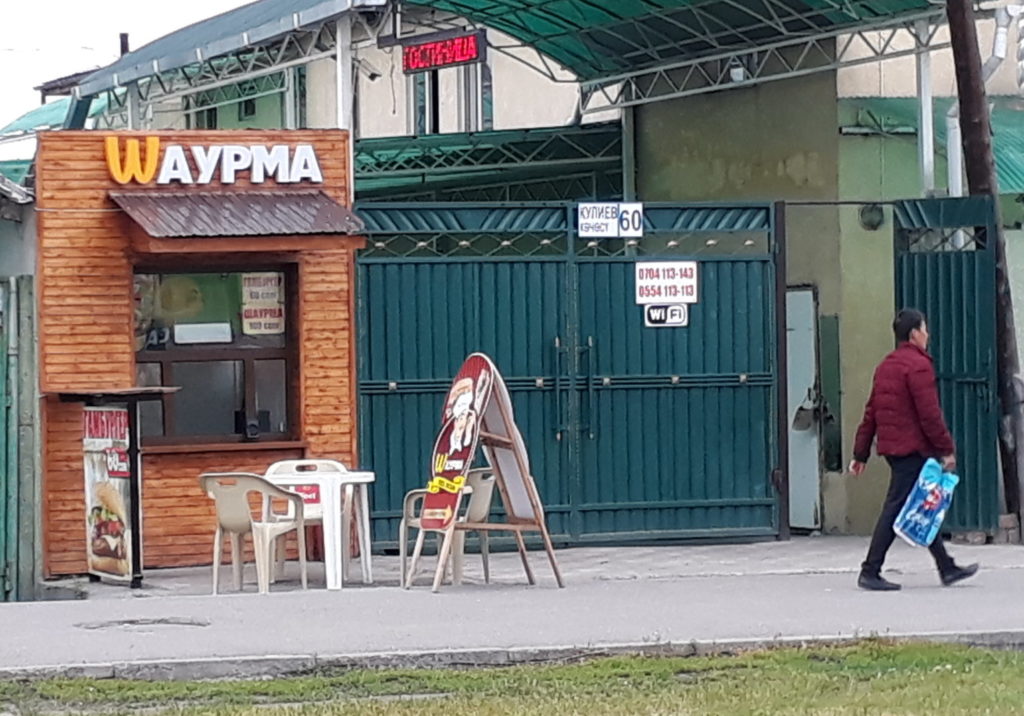 The cafeteria next to the hostel was very typical and packed with locals grabbing their food either before their bus rides or on their way to work. I knew being vegan was going to be very difficult in Kyrgyzstan, most likely next to impossible, as even vegetarian food can be hard to get in one of the countries that eats the most meat per person!
I had picked a pastry that looked sweet but the cashier put the fork in and since it was too dry for her liking so she had me pick something else. All of this using gestures only since her English was about as good as my Russian. I used my very handy translating app to ask which other pastry wouldn't have any meat in it, and surprisingly the potato pastry she gave me was fresh, filling and actually quite tasty.
Discovering Bishkek
It was sunny, fresh and green. Making all of it amazingly different from Dubai. A lot more down to earth and not solely focused on appearances. It took me a while to feel ready to get started and go explore. I was quite tired from my sleepless night flight and a bit anxious to see if I would be okay to travel on my own again after what felt like so long.
After a few hours, however, I felt so happy to be traveling again. It made me realize I had missed this more than I ever thought possible. It was a more than welcome break from Dubai.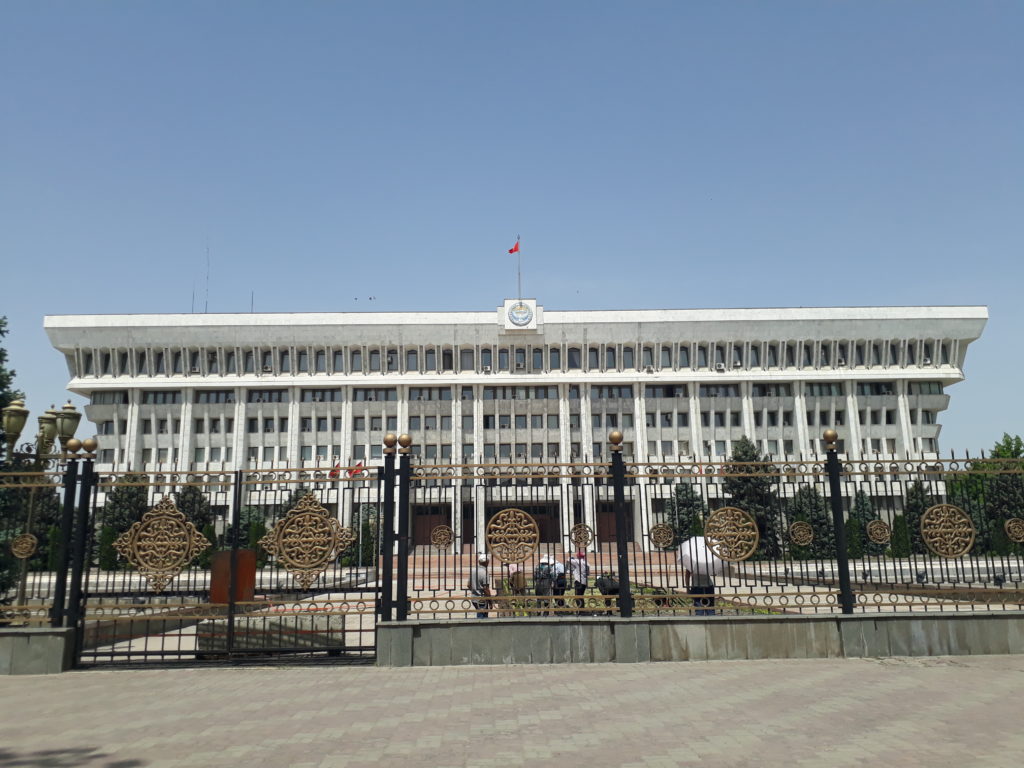 I walked aimlessly in the city, following my instinct and what appealed to me, going from busy streets to green parks. I stumbled upon on an artistic performance, including some dancing and a guy rapping to what looked like a university crowd. I'm not sure what it was about, but everybody seemed to be having a great time and so did I.
Watching people driving felt a bit chaotic, but then I remembered Alex's guide mentioning how the cars here were all imported a while back from all over the world before the ban on import which means that they have cars that have the steering wheel on either side. It must be quite the challenge to drive here, and I have to admit even though I wanted to go explore the countryside a bit, I didn't feel brave enough to go renting a car and setting off on my own!
Bishkek reminded me a lot of Chisinau in Moldova or Tiraspol in Transnistria. Old Soviet cities with not much to do but with green parks, monuments and trees everywhere. I found it truly incredible to see that much green everywhere. I did however felt like I was standing out a lot more than I did in Chisinau since I was clearly one of the very few people who didn't have an Asian look.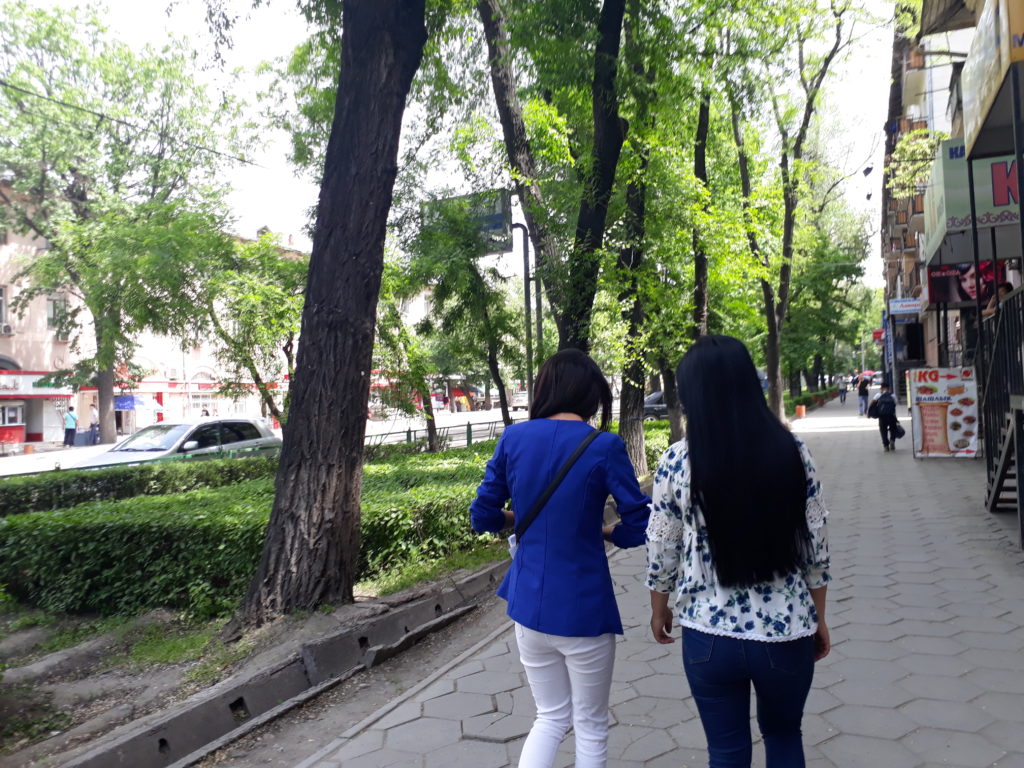 The Kyrgyz women are beautiful and like in most place the younger generations are much more thinner than older people. The women are also quite well-dressed and I was hoping I would find a dress or something to bring back, just like I did in Chisinau. I do not buy many souvenirs anymore, but I do like to buy clothes as it always reminds me of the travel when I wear the piece of clothing again. And usually the chances of meeting someone wearing the same thing are quite slim!
Going out of the city
My second day in Kyrgyzstan was simply a perfect travel day although it didn't quite start up this way! The plan was simple. Leave the city and go for a hike in the mountains.

I got up early and went to Osh Bazaar to find the marsutka 265. I wasn't sure where I was supposed to find the minibus and was looking for a station. The only information I could find online said it was leaving from the Bazaar. I couldn't see anything that resembled a station, so I went to the other end of the market. People were bringing in their stuff which meant I ran into dead animal bodies, some with fur still attached. I thought I would throw up but I kept moving quickly between cars and through the small aisle of the market. Once I reached the other end of the bazaar, it was obvious I was no longer in the right place to find a minibus.
I went back to where I had first seen some minibuses earlier and asked a lady using my new translating app. She pointed down the street so I headed that way. At the junction with another slightly busy road, I asked a lady selling the fermented milk drink and chai and she literally pointed in front of us. I had finally found the "station". For those of you who would like to go, the bus stop is on Токтогула улица at the corner of ъейшеналиевой улица and since the bus only leaves every 3 hours or so, I would recommend getting the 8:15 one.
A few seconds later, after finally seeing a minibus with the right number written on it, I tried to see if it was going to Ala-Archa Canyon, but a guy stepped in, explaining in Russian this specific bus was not going all the way to the Canyon, so I would have to wait for the next one. He grabbed his very old Motorola type phone, typed something in and then showed me. It said 8:15. That's when I understood what he had been trying to tell me for the last few minutes…
Shortly after, a blond girl wearing hiking boots arrived. I asked if she was going to the canyon and she said yes. It was pretty obvious we were both tourist, and I was rather reassured that at least I would have someone to either follow or get lost with!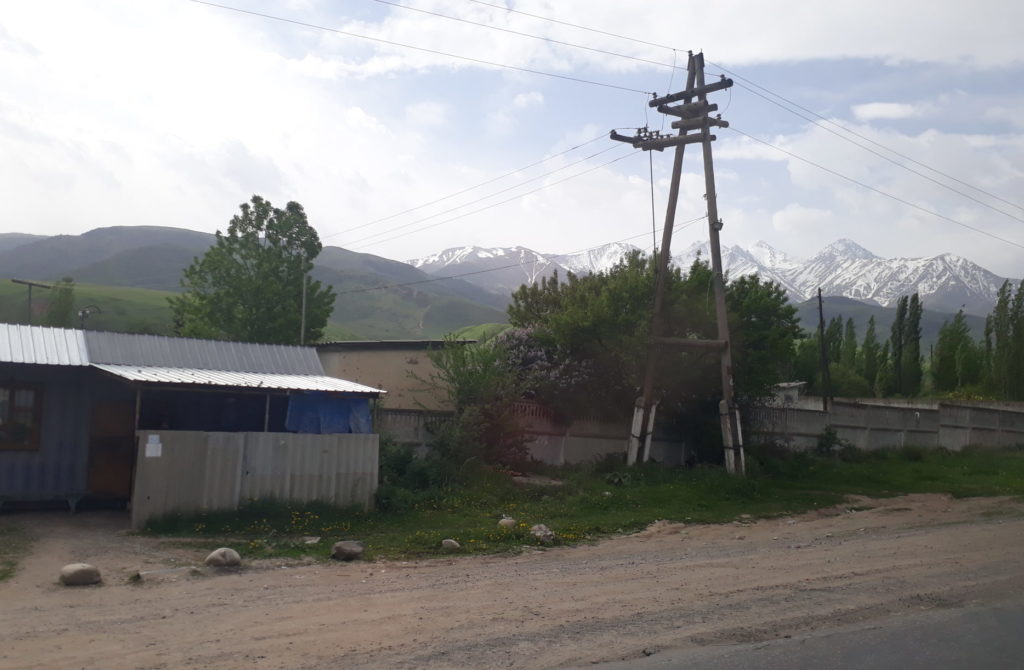 The right minibus arrived shortly after so we got on, paid our 40 som (0.77 CAD) and went on our way. At one point, the driver stopped and went into a shop by the side of the road. Another guy came in and we left. Only to stop again a few seconds later. This new driver went into what looked like either a house or a shop, stayed there for a while and eventually came back out and drove us to the 1st gate. The bus doesn't drive all the way to the start of the trail, but only to the first gate of the park.
We paid our entry fee, 80 som ( about 1.50 CAD) per person, and started walking. We wanted to hitch a ride since there is about 12km between the two gates and were rather lucky as a few meters in, a car drove in and picked us up. He was a local with his young son sleeping in the back seat. He drove us all the way to the second gate, even though that was not even where he was going. Since Monica spoke some Russian, they had a conversation, while I enjoyed the scenery from the back seat.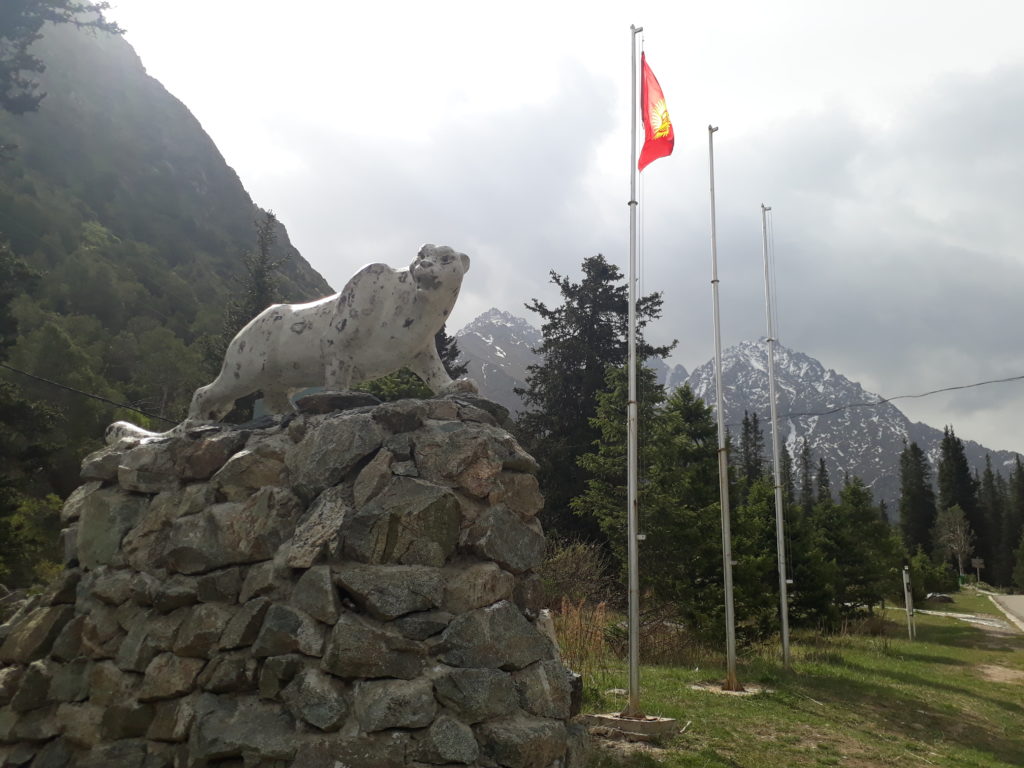 Once we reached the second gate, there were signs and the path was clearly visible. We thanked our driver and started our walk. Shortly after we started I was getting thirsty so I grabbed my water bottle only for it to explode everywhere. I didn't realize I had brought carbonated water and not still water! That's when I realized the meaning of the word газдалган.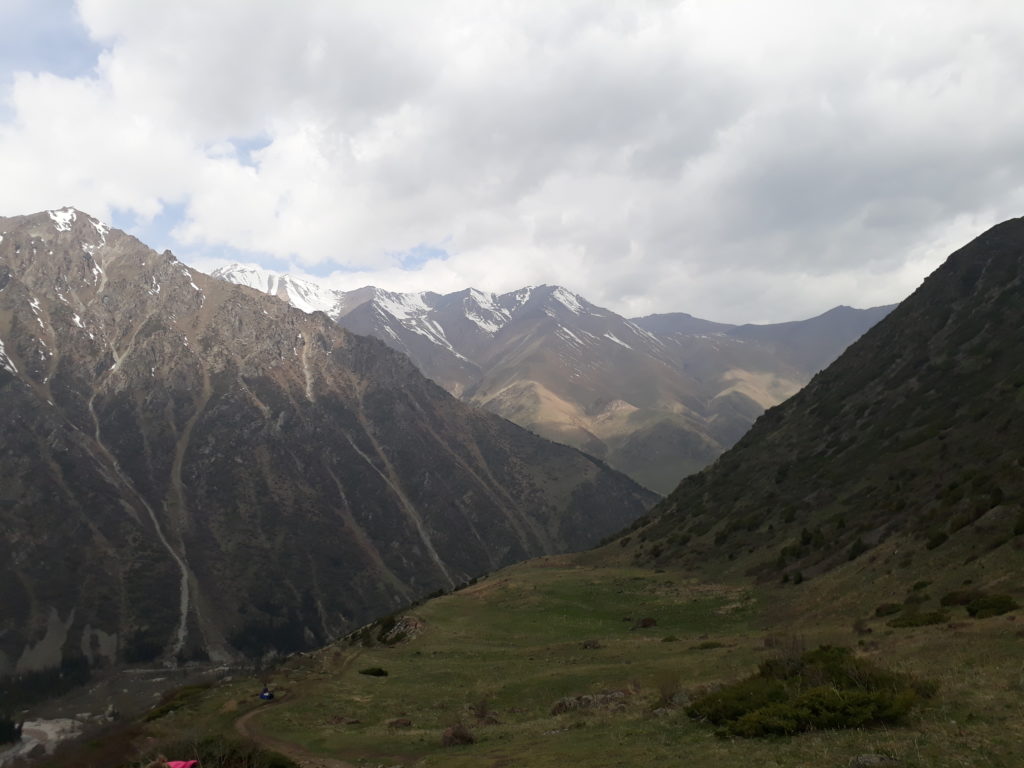 The scenery was amazing for the entire trek, going from forest looking just like the city in grew up in Canada to mountains overseeing riverbeds with white rocks and glacial turquoise water like Nepal. It was super quiet and getting to hear the birds and the wind coming down the mountains felt unreal after busy Bishkek. It was also quite nice to have someone to talk to, joke with and to share what I was seeing with.
Eventually, we arrived at the waterfall point. According to our GPS anyway. We had seen the waterfall from the car but we got confused with the trail, and simply ended up going towards Ratsek instead. We walked for 13km and went up to about 3000m. From the start of the trail, Alplager at 2100m, it was only a 1000m climb but since I was no longer used to hiking, I was truly exhausted that night!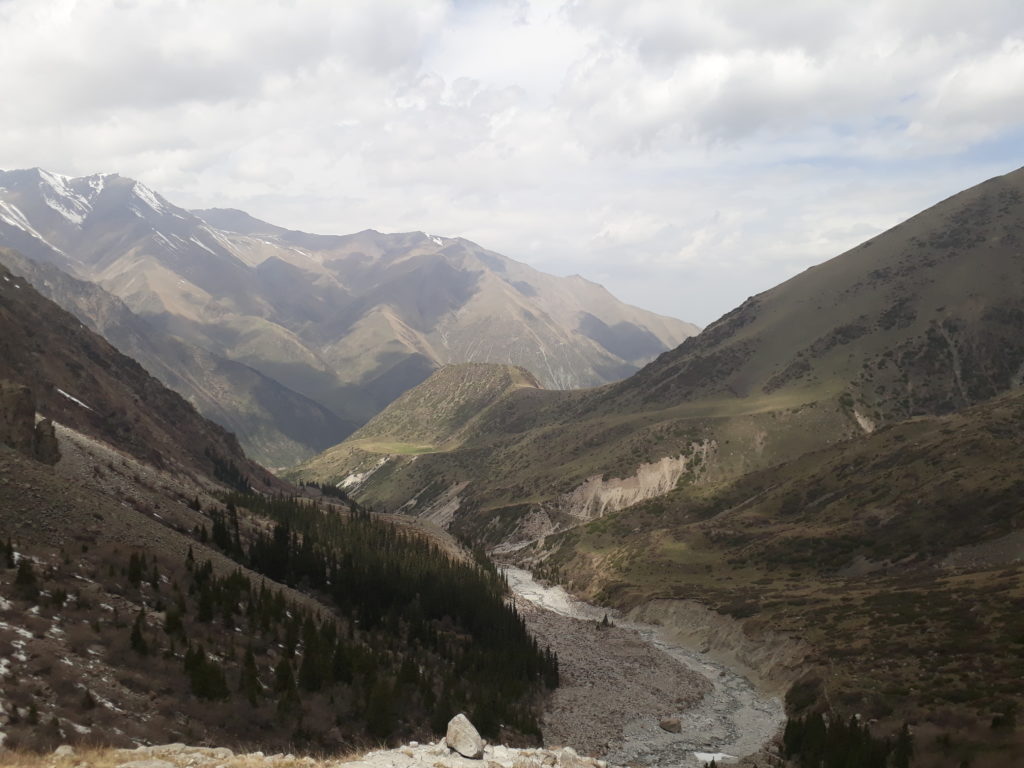 We were going to keep walking up the mountain for a bit but as we sat down to take a break, enjoy the view and eat our snacks we could see dark clouds forming. We decided it would be smarted to head back down if we wanted to make sure to have enough time to catch a minibus back to the city, especially if we had to walk all the way back to the 1st gate in the rain.
As we arrived back to the town, it started raining. We decided to try to hitch a ride back down to the 1st gate at least and thankfully a Belgian couple picked us up rather quickly, which was very lucky as it started raining quite heavily as soon as we got to the second gate.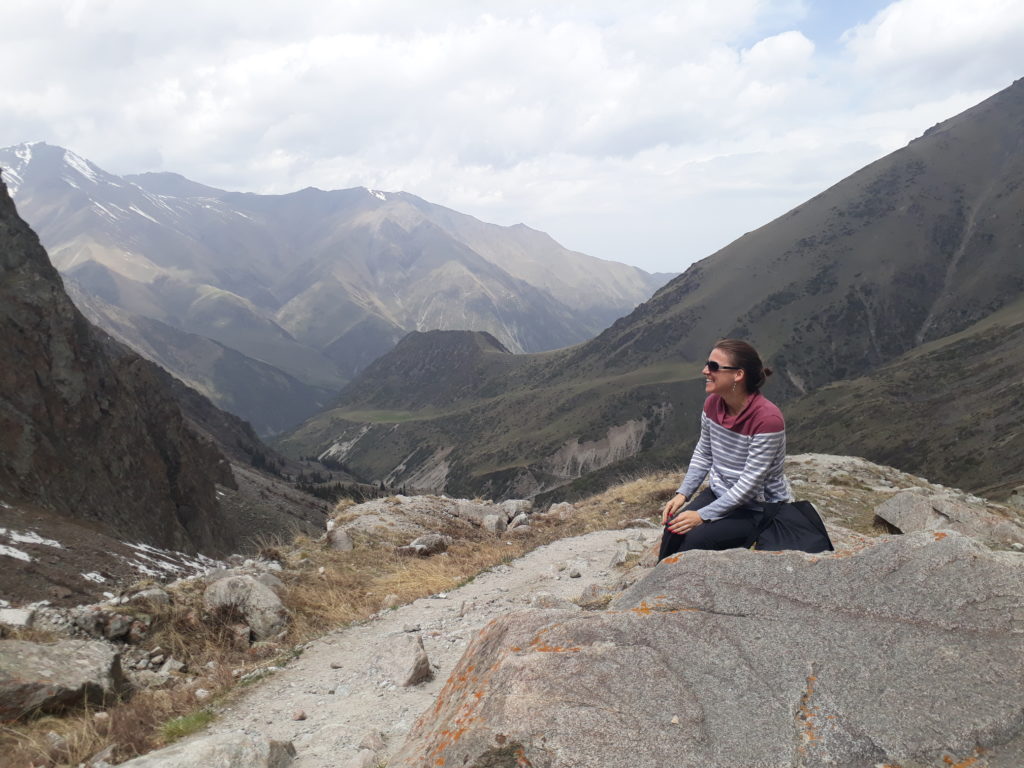 The couple was also returning to Bishkek however they had not booked anywhere to spend the night yet. So being the clever person I can sometimes be, I told them there were private rooms at the Apple Hostel I was staying at and it was actually quite okay. That convinced them and they drove us all the way back to my hostel's door.
We all had dinner together at the cafeteria. I ate a weird looking meal. It was a massive dumpling shaped into a crown and filled with veggies. It turned out to be rather tasty, but I have to admit I wasn't too sure about it to start with!
Third day, Burana Tower and Konorchek Canyon
The next morning I was struggling. I didn't know what I wanted to do and where I could go. Communication with the hostel staff wasn't really flowing. I wanted some information and felt like I had to be really precise in my questions, otherwise, I was not getting complete answers. Sometimes the language barrier can be quite challenging, especially on days where you already feel a bit more fragile and unsettled than usual.
Part of the reasons why I felt so out of it that morning was because I had lovely conversations with a bunch of people at the hostel the night before. They were all going through the 'stans, exploring and hiking and I knew that this was just a very short break before I had to return to Dubai. I was already questioning my decision to move to Dubai in the first place, and being faced with people living the kind of life I was aspiring to, made it hard.
I was also remembering how hard it can be to travel alone. It's great at times because you have all the freedom to do exactly what you want, but you also have nobody to share the little things with. Or have nobody to step in and take over when things get difficult.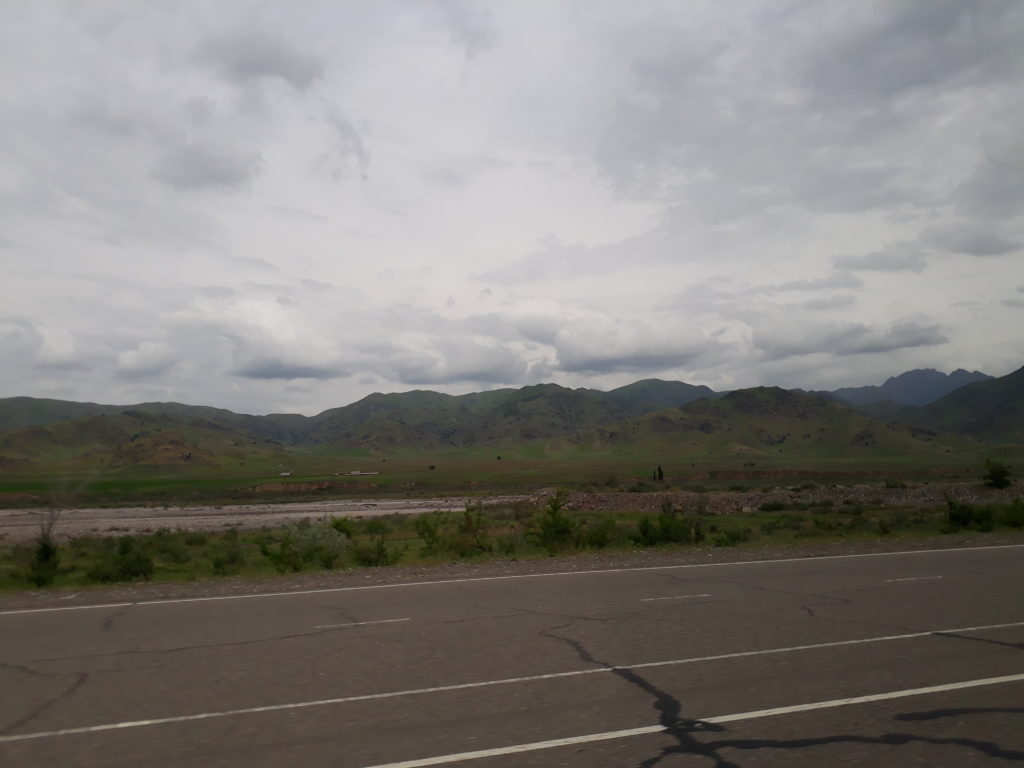 As I was having breakfast and writing my journal processing all of the above, Eva and PJ, the Belgian couple, came in and sat with me. I asked them what their plans were and if I could hop in the car with them. I would get a minibus or find another way back. I didn't really care where I was going but I wanted to go somewhre. Anywhere!
Becky, another girl from the hostel, joined us for breakfast and we all agreed to leave shortly after. Sometimes all you need to change your mood is to have the balls to ask people what they are up to and if you can join them!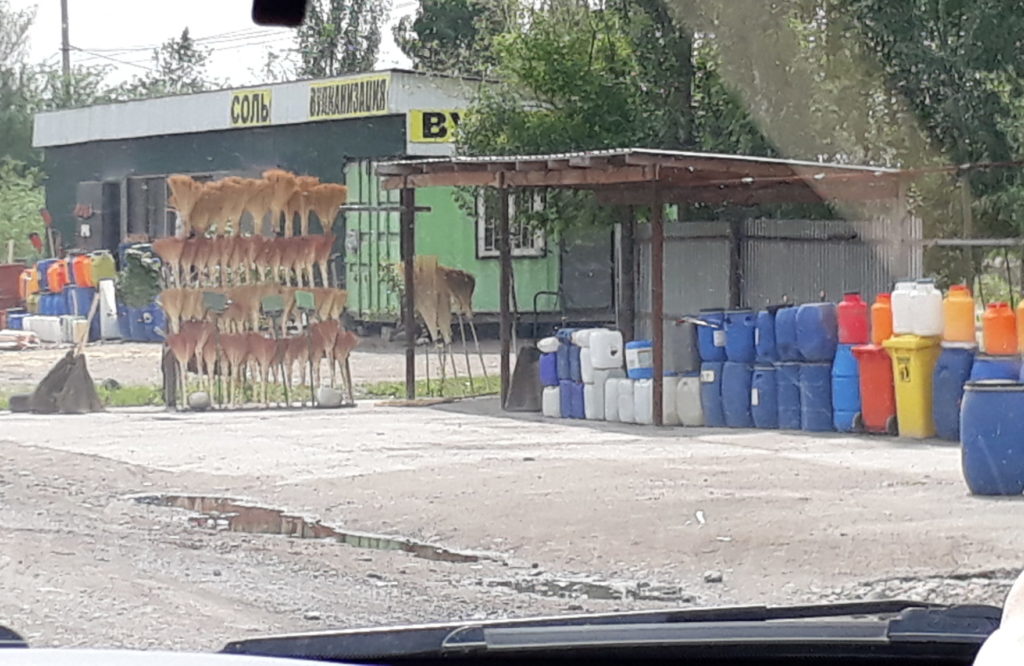 The couple were heading East towards Karakol and wanted to have a look at a few sites along the way. We drove to the Burana Tower, and saw rural Kyrgyzstan along the way with various stands, including some to buy brooms and water containers. Also a lot of vehicles carrying cows, horses, etc. The big minaret is located about 80km from Bishkek, not too far from the town of Tokmok.
When we arrived close to Burana, we parked the car and walked across the very yellow gate. We paid our entry fee (60 som per person, which is about 1.15 CAD) and went straight to the tower. The Burana site is quite interesting. It has the tower of course, but also some mausoleums, castle foundations, grave markers, pteroglyphs, and a small museum.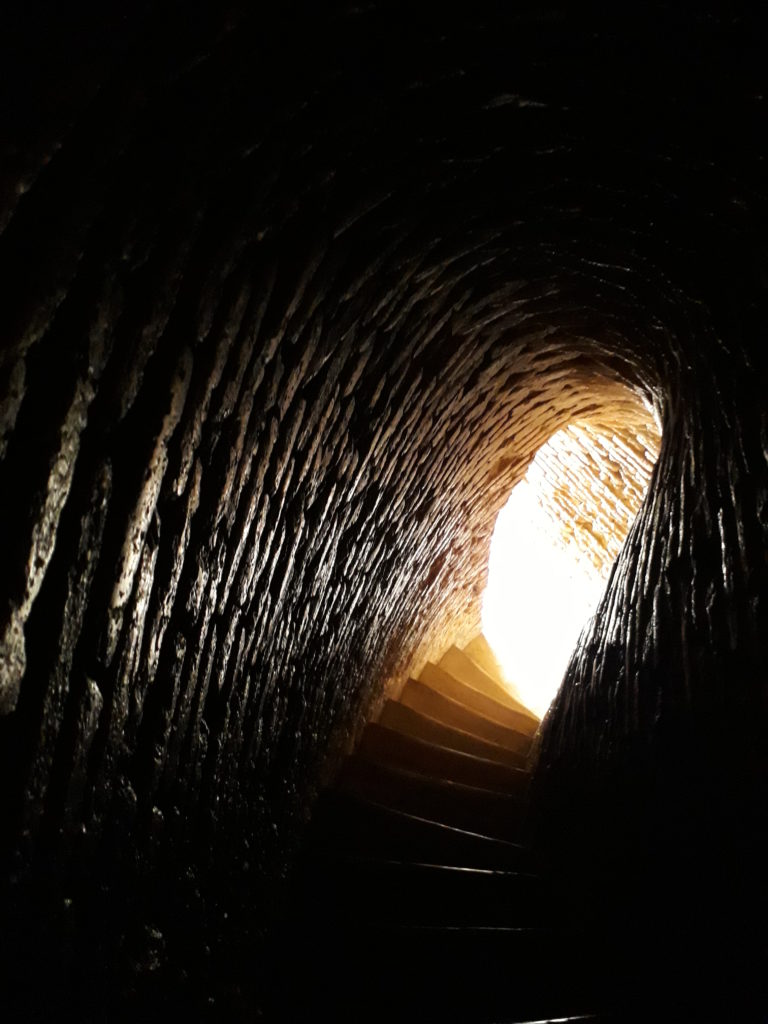 The stairs to go up the minaret were quite narrow and dark but I did very much enjoy going up. We had to take turns going up or down, as you could only fit one person… given you didn't have shoulders too broad! The view from the top was truly stunning. The tower used to be about 45m high, but over time and because of earthquakes, parts fell down and it's now only about 25m.
We explored the surroundings, having a look at the rocks with pteroglyphs on it and other artifacts before getting back in the car.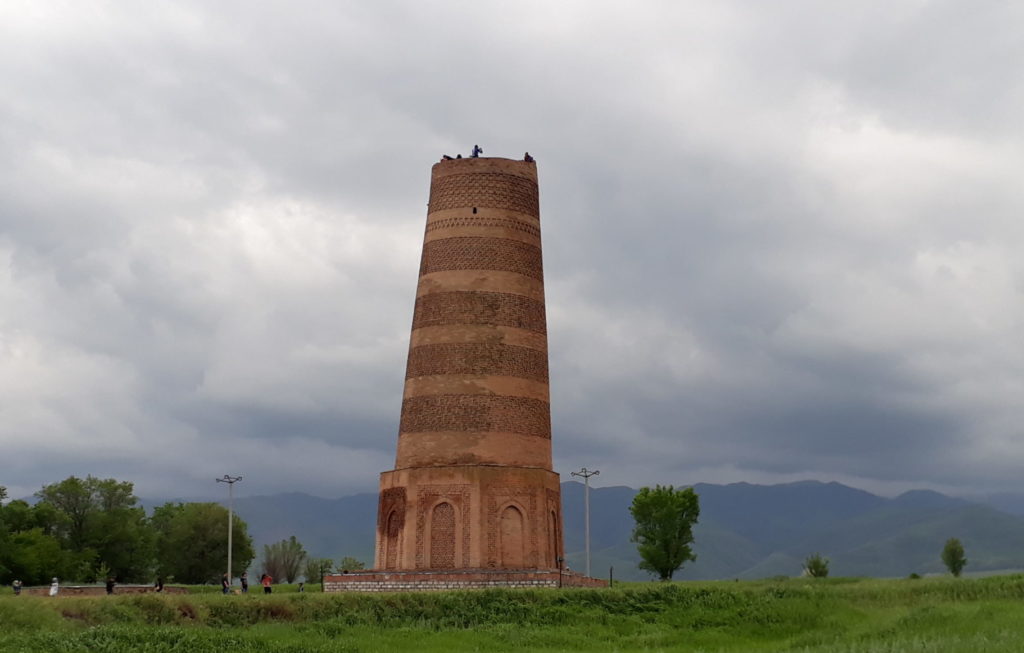 We had lunch while driving to Konorchek Canyon. The road is right by the border of Kazakhstan and you can see the Kazakh mountains while driving in the valley. It was gorgeous.
The trail wasn't too obvious to start on. I had read that you had to go on the other side of the train tracks, but it didn't really say anything else. There are no signs, but once you have crossed the tracks, it becomes a lot more obvious. It's a canyon and there's no other option than to go forward! The canyon carves its way into the mountains, including some easy scrambling. We ended up arriving in a gorgeous area which looked very much like Utah.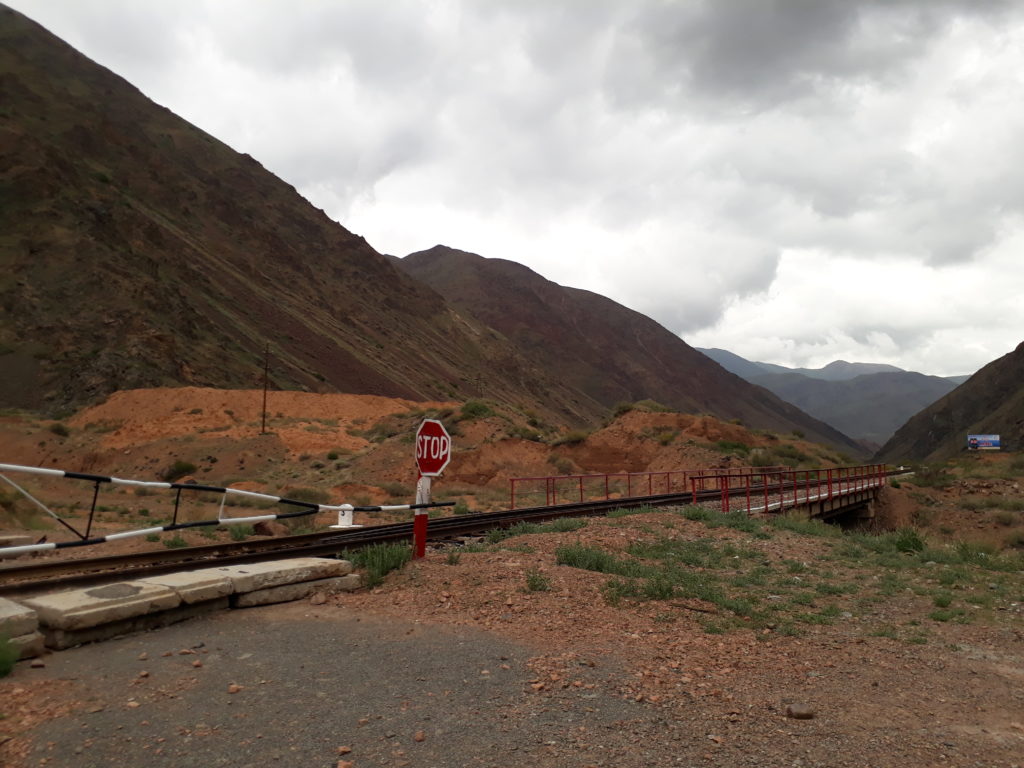 By then the day was already well into late afternoon, we could see rain clouds forming, and since Becky and I still had to make our way back to Bishkek, we decided to turn around and come back to the car. I would have liked to keep going, but safety first, I preferred to come back to the city before it was dark, just in case we would not make it to the Western bus station and had to walk to the hostel.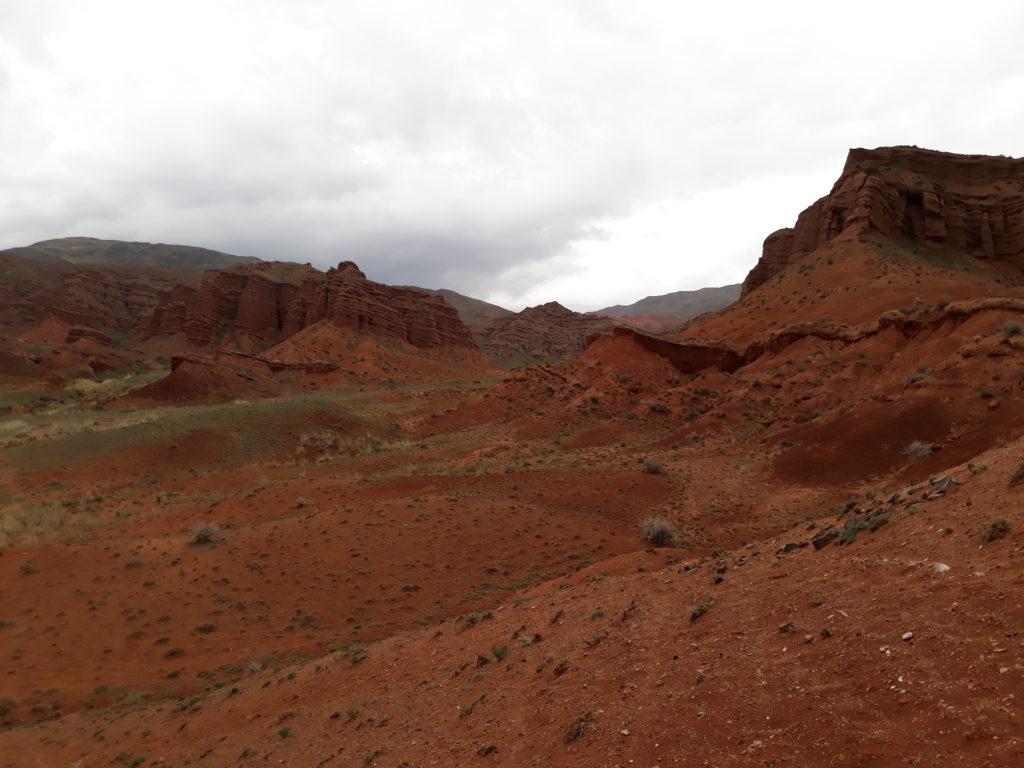 Becky and I wanted to get a minibus back but when the couple dropped us off we crossed the street and a guy offered to drive us to the town before Bishkek. We tried to communicate but I couldn't understand anything he was saying. We were communicating using google translate. We finally agreed on the price for him to drive us all the way to the bus station.
At some point during the drive, he was saying something, which seemed to mean he would not bring us all the way back to Bishkek, although that was what we had first agreed upon. I pretended not to understand and reply yes, we are going to the west bus station.
Eventually, he got a minibus to stop and pick us up to finish the road. I wasn't happy but it's quite hard to fight or argue when you don't speak the same language. The guy still wanted the entire amount we had agreed on, and the bus driver wanted his share of the money. I managed to explain that we had agreed to a price to bring us all the way to the station, the fact that the guy changed his mind meant that I was not going to pay the entire amount without going the whole way. In the end, we got 100 som back, which in hindsight doesn't seem worth arguing over, but it was more for the principle of it than the actual money.
We sat on the bus and tried to recover from our adventure. The only seat that was available was rather wet, and even though it was raining a bit, it sure wasn't raining enough for it to be this wet. So not only was I now sitting in a minibus instead of a car, but I was also sitting in piss. Lovely.
When we finally made it back to the hostel, we decided we deserved wine so we used part of the 100 SOM we argued back for a bottle of red local wine. It was quite the experience, and once again very typical of a backpacking adventure. We ended up laughing it off.. we now had a funny story to tell!
Last day in Kyrgyzstan
After living in Dubai and always seeing blue skies, I must have been the only person in Bishkek truly happy to get to enjoy a wet and grey day. Seeing clouds and rain actually felt more normal. So did having to wear long jeans and a long-sleeve t-shirt or jacket. I was definitely not really looking forward to going back to sandstorm and heat.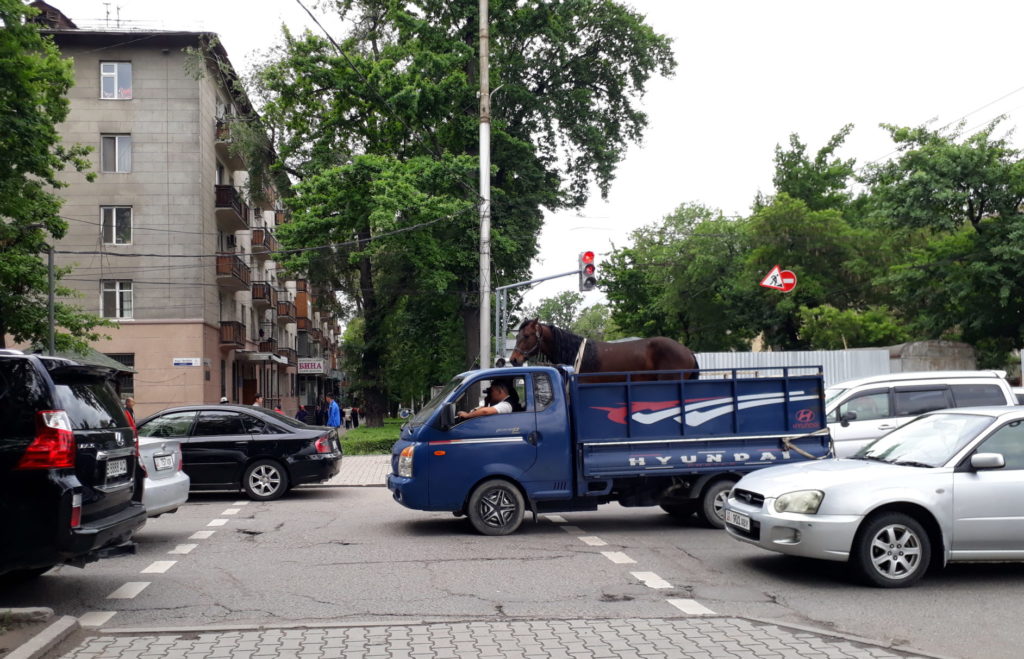 The scenery in Kyrgyzstan is so varied. I didn't go far and I saw gorgeous alpine scenery with glaciers, green rolling hills and a flat valley as well as red rock formations that look a lot like Utah, all of this within a few hours drive from the capital city. The country seems to have a lot to offer and according to all the backpackers I've met, so does Uzbekistan and Tajikistan.
I wasn't sure what to do for my last day. I would technically have had plenty of time to get on a minibus to somewhere but all the interesting places seemed too far for a day trip. And I didn't want to be stressing out about making it back on time to catch my flight.
After taking it very slow all morning, reading about Bishkek and trying to find something new to see, I went to the Osh Bazaar. I stepped in a few shops but soon realized I didn't actually want to be surrounded by people so I walked towards Tsum centre which once again reminded me of Moldova and its "shopping centre". I had hoped to maybe find clothes but my attempt at trying some skirts didn't work at all. I was failing at explaining what I wanted (a larger size or a different color) so eventually I gave up and kept walking.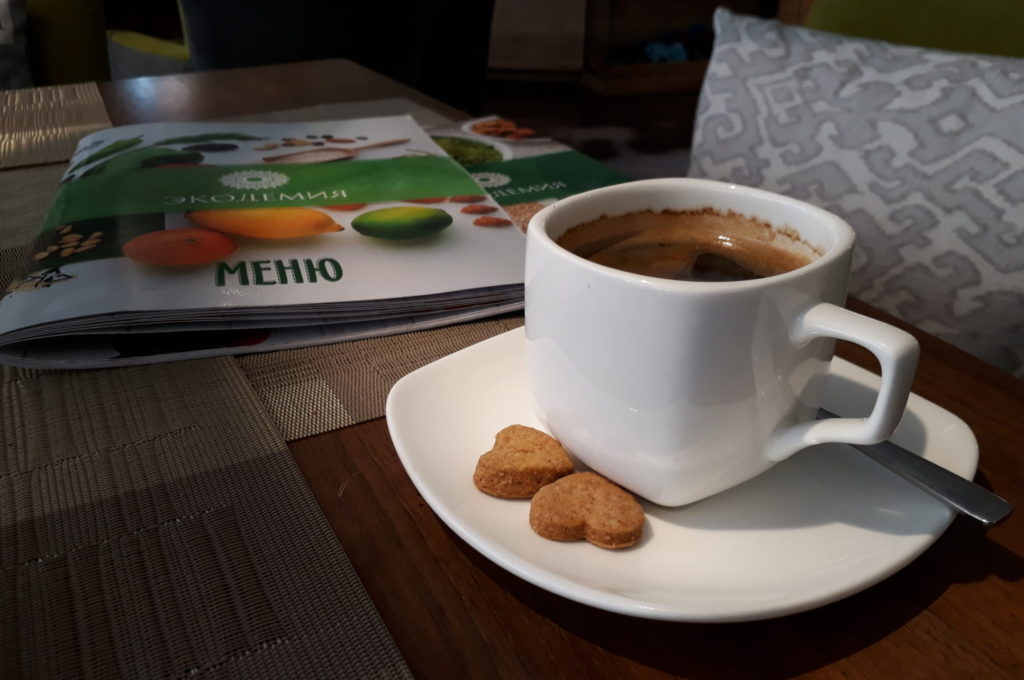 I decided to treat myself to a vegetarian restaurant called Ecodemia, a restaurant in the Dostuk hotel. And just like most things in those lovely labyrinthic Soviet buildings, it was not easy to find. It was quiet and relaxing and the food was great. Unfortunately, it now looks like the restaurant is permanently closed, which is rather sad, but quite understandable since it was extremely pricey for locals. A meal which costs about 20 CAD (1000 som) is nothing when you get paid in CAD, but when the average monthly salary is 15 000 som (not even 300 CAD) it sure looks like a lot.
The closing of the restaurant might also have to do with the cutest little mouse I saw just poking her head from underneath the stairs before changing her mind and going back into hiding while I was eating!
Other random note about Kyrgyzstan, they never have knives in restaurants (or at least in the places I went to), only forks and spoon to be used to cut things and eat. This can make eating rather messy and challenging!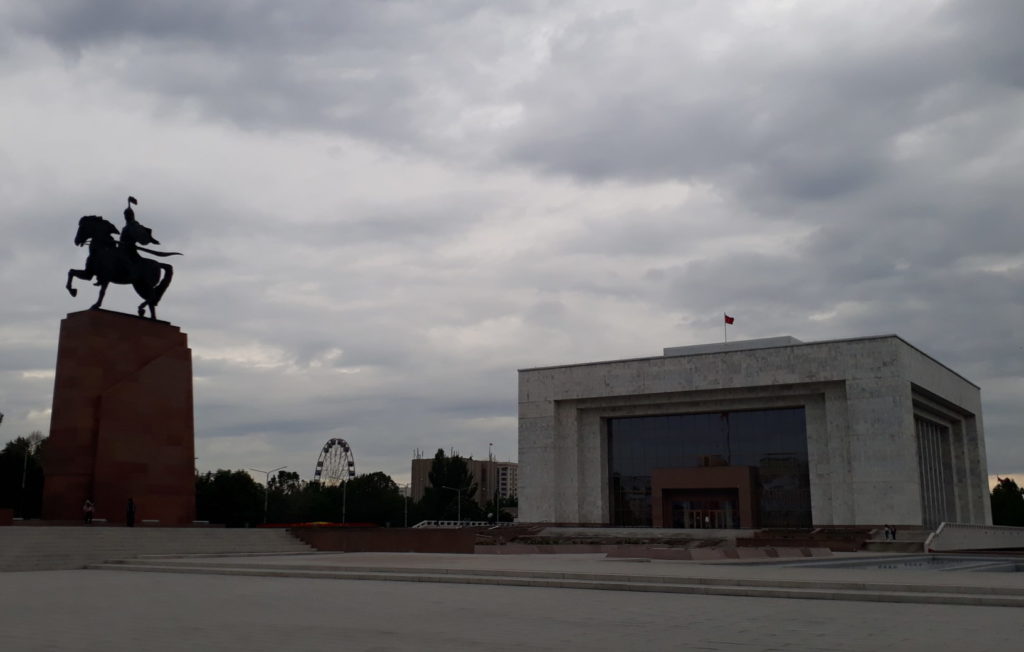 I spent my last few hours in the country before my flight back to Dubai at the hostel, chatting with other guests. It kept me busy until quite late then the girl working at the front desk started asked me rather personal questions. She was in her early 20s and was very curious to know how life and relationships worked in other countries. She wanted to know if it was really like the American teen movies, where everyone sleeps with each other and parties a lot.
She told me how traditional it still was for most Kyrgyz girls. They were still expected to bleed on their wedding night. Some marriages are arranged and some are love weddings depending on the family background (it tends to be a bot more modern in the city than in villages). And once they are married, the first son of the family and his new wife will move out to their own house, but the second son had to live with his parents, meaning that his wife would now have to move in with a family she doesn't really know.
We talked for a long time about boyfriends and first time. She was obviously very curious and quite nervous and I was happy to share what would have normally been discussed in a sex ed class, should those still exist. It was a very interesting conversation although rather unexpected! And a really funny end of my long weekend trip in Bishkek!